Azerbaijani forces have attacked the entire length of the NKR-Azerbaijan Contact Line, targeting civilian areas. The Armenian nation, both in the homeland and the diaspora, stand in full support of our soldiers on the front lines. Our hearts and prayers are with you.
To the Azeri Government, whose short term memory seems to have abandoned them. You are not the first regime to try and wipe out the Armenian people, similar to those before you, your attempts WILL END IN FAILURE.
To the fatuous dictator Aliyev, like your father before you, whose lesson you failed to learn, have no doubt that your fascist government, your billions in weaponry, and your army, will once again fall in spectacular defeat at the hands of the ARMENIAN SOLDIER.
We will be protesting the criminal Azerbaijani Government on FRIDAY AT 1PM IN FRONT OF THE THE AZERI CONSULATE.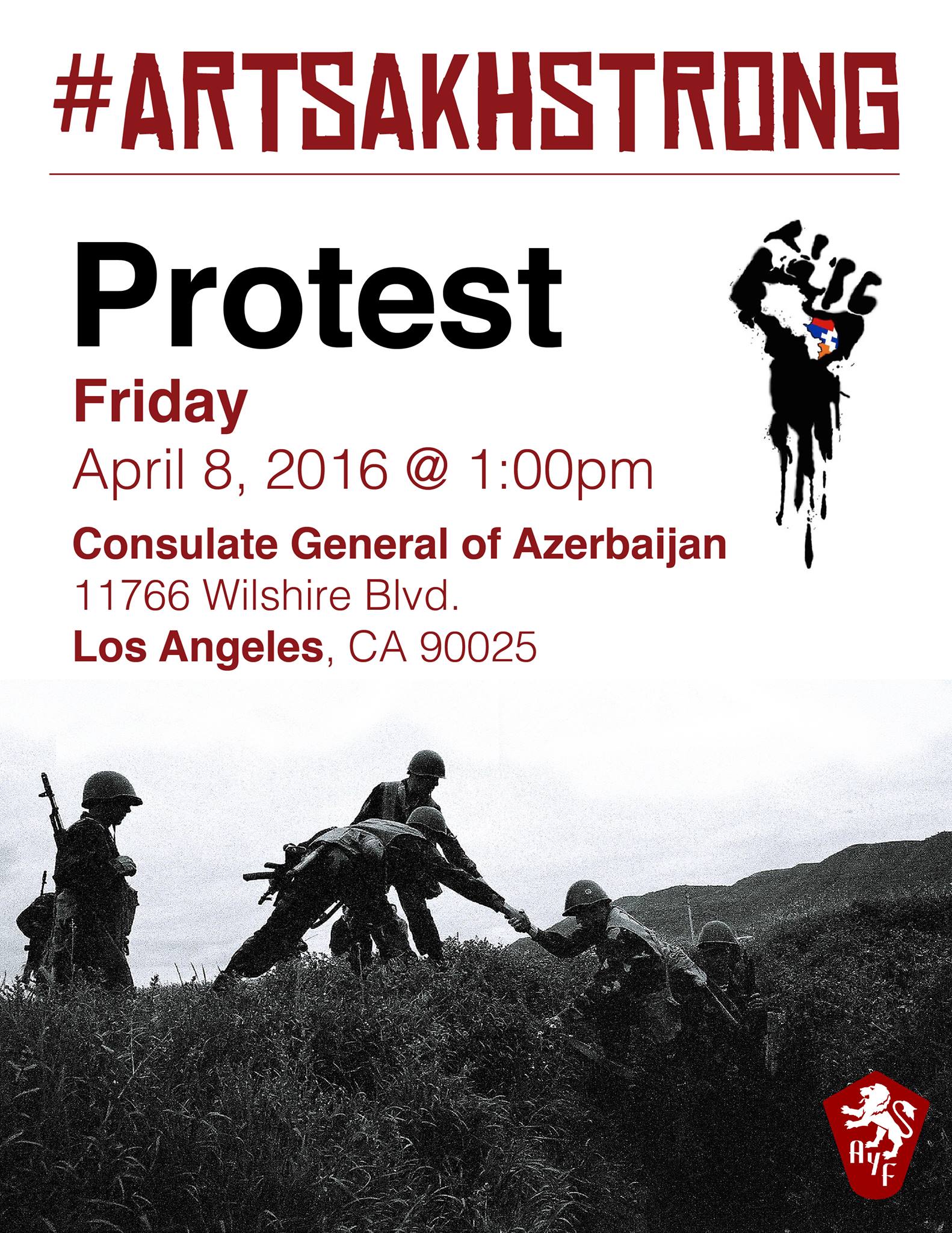 AYF Statement on the Re-escalation of hostilities in the Nagorno-Karabakh Republic
The Armenian Youth Federation expresses its deepest concern and discontentment with regard to the reescalation of a full-fledged war along the entire length of the contact line of Nagorno-Karabakh Republic (NKR).
On April 1 and throughout the morning of April 2, Azerbaijani forces undertook large-scale offensive military actions against the NKR during which they shelled with heavy artillery units not only Karabakh defense positions but civilians as well. Azerbaijan uses tanks, heavy artillery and air force to attack Nagorno Karabakh. At least one child is reported dead, two are seriously wounded. The number of dead/wounded soldiers is not yet known.
The Armenian Youth Federation is calling out to all of our sister organizations to condemn the violent assaults against the NKR and its civilian settlements and population.
Aggression and war cannot be a long-lasting solution to any conflict. War is not a solution. The peaceful resolution of the NK conflict is the only acceptable and reliable way for us, the only way to a long-lasting peace and democracy in the whole region. We remain firm in our belief that the Nagorno-Karabakh conflict can be solved entirely and exclusively in a peaceful way.
We will, therefore, urge our numerous comrades and our member organizations to show support and solidarity to the people of Nagorno Karabakh Republic, to show that violence has no future, that aggression can only give birth to more aggression, that hatred can bring about only more hatred. No peace is possible without democracy and equality, without respect to the most vital human rights.
We are, therefore, asking you to condemn Azerbaijani violence and aggression against the Nagorno-Karabakh and its civilians.

We seek your solidarity and your support to promote peace and peaceful resolution to the Nagorno-Karabakh conflict.
Armenian Youth Federation