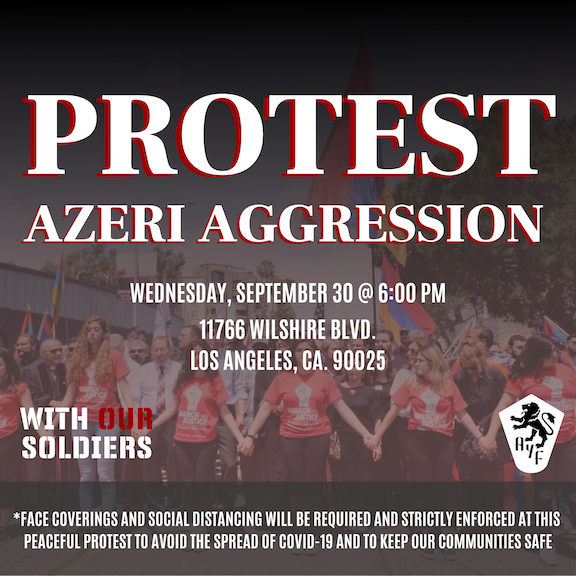 On Wednesday, September 30th, at 6 p.m., in light of recent attacks and aggressions from Azerbaijan, the Armenian Youth Federation Western United States invites all those who stand against Azeri aggression to voice their demands—to not just the Azeri government, but to the local, state, and federal governments of the United States and to the entire international community.
Aggression by Azerbaijan knows no bounds.
Since our last protest, Armenians across the Western United States and around the world have been targeted for hate crimes, including attacks on our schools, community centers, and misinformation online and in the political arena. We call on our compatriots to join us once more in condemning Azerbaijan for their aggression.
On the morning of September 27, 2020, Azerbaijan launched a massive military attack on civilians and civilian objects in Artsakh and Armenia.
Azerbaijan, led by a warmongering dictatorship, continues its campaign of terror against civilians. The capital city of Stepanakert was attacked for the first time since 1994. Among the reported fatalities are a woman and a child, and many more civilian structures including homes and schools continue to be targeted.
"Azerbaijan has increased its level of aggression, targeting civilians and recklessly endangering thousands of lives. We all feel the sentiment, although we were not born in the homeland, our homeland is born within us. While we cannot be on the front lines next to our brave soldiers, we will always be on the front lines in the diaspora politically and in our communities across the world. In the midst of a global pandemic, we cannot stand idly by when Azerbaijan continues its attack, —this time more intensely. As in our previous protest, we stress to everyone planning to attend to wear a face covering and to take all necessary precautions to protect themselves and the rest of the peaceful participants," Alique Cherchian, AYF-WUS Central Executive member, said.
Aliyev's war crimes have the full support of the Republic of Turkey. Furthermore, international organizations and media refuse to acknowledge Azerbaijan as the clear aggressor. As a result, once again the Armenian nation is left with the responsibility of bringing light to these injustices.
Due to the COVID-19 pandemic, face coverings and all other government-sanctioned protective measures will be required and strictly enforced.
Founded in 1933, the Armenian Youth Federation is the largest and the most influential Armenian-American youth organization in the United States, working to advance the social, political, educational, and cultural awareness among Armenian-American youth.