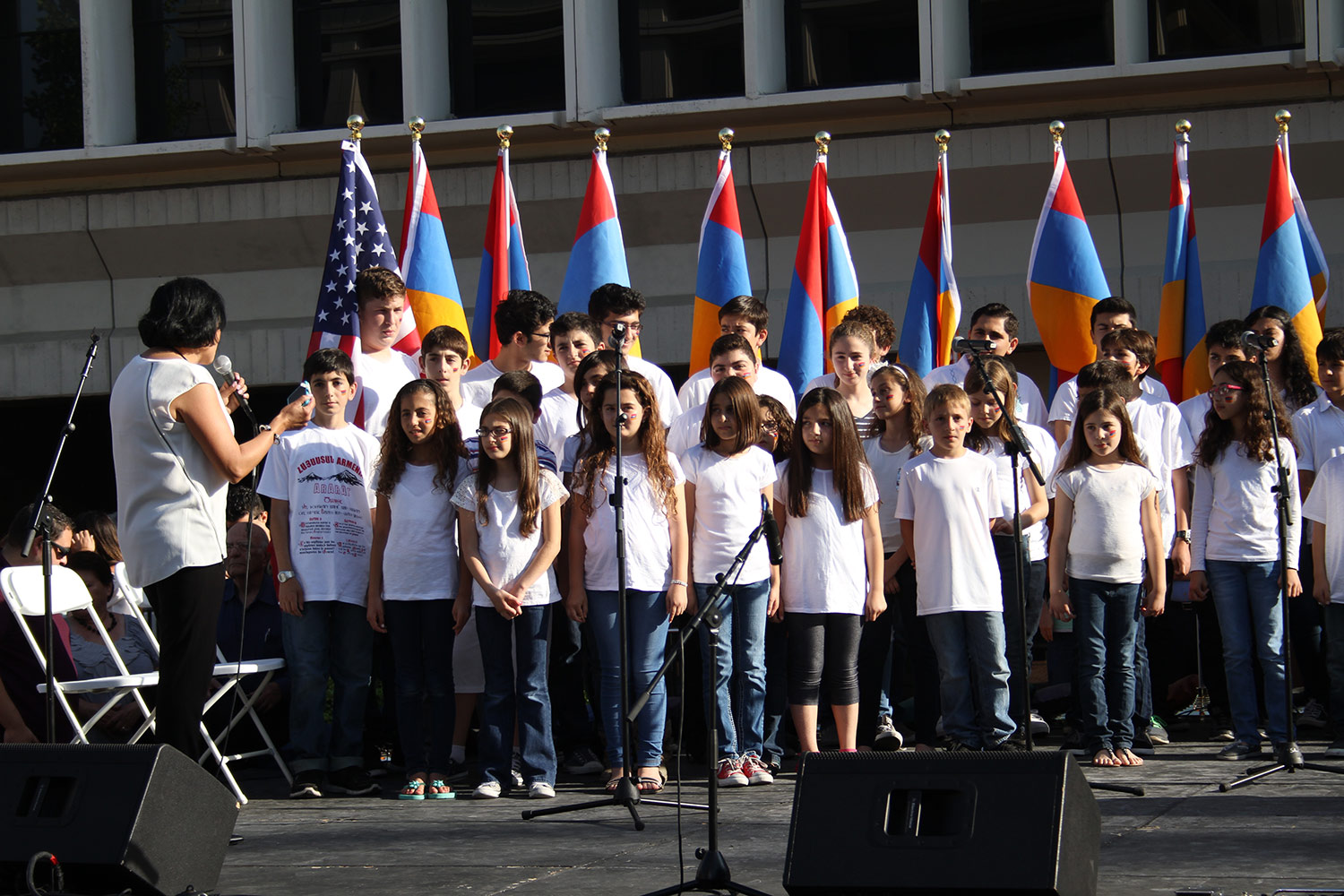 Ranks of Armenian Youth Federation Bolstered by Fifty New Junior Members
GLENDALE, CALIF. – Armenian Independence Day festivities on Sunday, May 31, 2015, had additional meaning for more than fifty local Armenian youth who made a public pledge to serve their community, the Armenian nation and its cause.
With an audience of more than two thousand gathered at the grounds of Glendale City Hall to celebrate the first Armenian Republic of 1918, the young Armenians vowed to be exemplary members of the Armenian Youth Federation.
"Presiding over the pledge ceremony of so many young and new members of the AYF ranks was truly an honor," stated Armenian Revolutionary Federation Central Committee member Aida Dimejian. "We must nurture and inspire our next generation because they will continue our fight and will demand recognition, reparations and restitution from the Turkish government."
The selfless dedication displayed by those who gave their pledge seemed to invigorate the swelling audience, who danced and sang late into Sunday evening with some of the leading singers and entertainers in the Armenian community.
"AYF means a lot to me. It's like a family, so I felt really happy after giving my pledge," exclaimed Alex Manougian, the co-chair of the Montebello AYF Juniors chapter. "I always wanted to join the AYF and am glad to now be an official member."
By giving their pledge to the AYF, the newest members join thousands of other youth in hundreds of chapters worldwide in their quest to serve.
"We are very proud that during the Armenian Independence Day celebration, our youngest daughter took an oath to join the AYF," said parent Silva Kirakosian. "In doing so, she has followed the footsteps of her grandparents, parents and siblings to carry on the noble principles and goals of the AYF and the Armenian Revolutionary Federation."