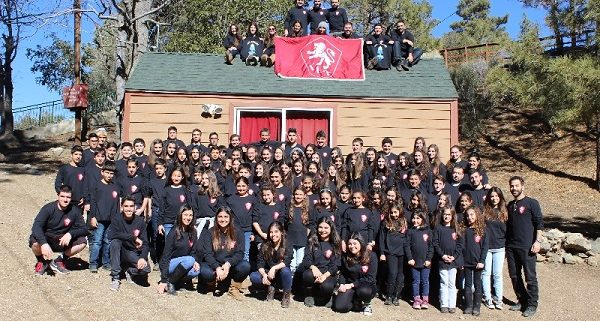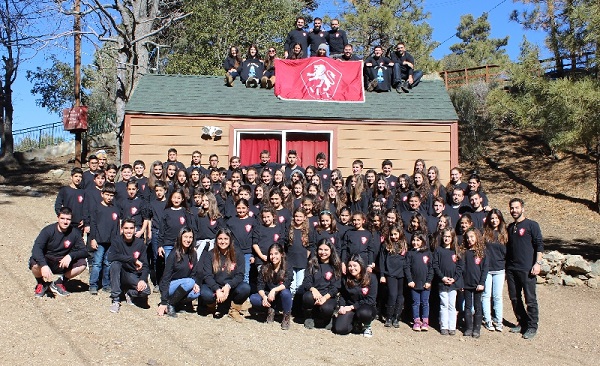 LOS ANGELES—The Martin Luther King Jr. long weekend had an additional special meaning for some one hundred Armenian youth who gathered at AYF Camp Big Pines for their annual Winter Getaway. Organized by the Armenian Youth Federation's Junior Central Council, the weekend attracted 75 AYF Junior member campers and about 25 AYF Senior member counselors.
Juniors between the ages of 8 and 16 enjoyed classic AYF Camp activities including "steal the bacon," "butt volleyball," "wacky olympics," "scavenger hunt," and song competitions.
"We even strived to make the educational presentations fun and engaging for the campers," said Sylva Khayalian, who oversaw all pre-camp preparations.
ARF Central Committee member Vache Thomassian presented Operation Nemesis to the older group of campers, which included 12-16 year olds; while AYF alumnus, Vicken Sosikian, conveyed the story of Talaat Pasha's assassination to the 8-12 year old group by breaking down the song commonly known as "Kini Lits."
"We wanted to facilitate learning throughout the weekend and not just during educational presentations," said Khayalian. "From the song competitions, to the cabin discussions to the Scavenger hunt we ensured that all campers were learning and interacting throughout the weekend."
Founder and director of Element Band, Ara Dabandjian, showcased a wide variety of Armenian musical instruments to all campers by providing a brief history and playing familiar songs with each.
"I noticed a hint of maturity and pride as she told her brother that she considers AYF Camp her second home," said camper parent Pattyl Aposhian Kasparian. "It wasn't until I overheard her singing the sweet words 'Yerp chi mnoom yelk oo djar, Khentern en kdnoum hnar' that I was able to identify the root of the change; maturity and pride coupled with the burden of righteousness and indomitable courage."
"The AYF Junior Winter Getaway was a perfect opportunity to strengthen the bond between AYF Seniors and Juniors, helping us face this historic year with a genuine and unified strength," said AYF activist Sanan Shirinian who co-directed the weekend with AYF alumnus Garen Kirakosian. "The greatest success for me was witnessing how deeply the AYF Seniors cared for our Junior members," said Kirakosian.
"The counselors were so much fun and funny, I had such a great time with all the cool activities," said 10 year old camper Kareen Manuelian. "My favorite part of the weekend was the singing and song competition – I can't stop singing since I've been back."
"Our goal was to provide a fun and interactive environment where we can all learn and grow," said JCC chairman, Saro Shirinian. "By having one counselor for every three campers, by making educational activities fun and fun activities educational, by ensuring safety and fostering comradery; we believe we accomplished our goal," said Shirinian. "We are grateful to the AYF Seniors, the AYF Camp Board, Sardarabad Bookstore and all the parents who entrusted us with their children."
"This long weekend reaffirmed my hope for the newest generation of Armenian Community organizers dedicated to justice," said counselor Razmig Sarkissian. "Justice for us is no different than the justice championed by Dr. Martin Luther King Jr.; while the causes may be a bit different the goal [justice] is the same," said Sarkissian.