Montebello, CA – A free legal clinic will be offered to the community on Sept. 18 from 6 to 8 p.m. at the Montebello Armenian Center located at 420 Washington Blvd.
The clinic, conducted in both English and Armenian (Eastern and Western), will focus on legal topics including immigration, landlord/tenant, bankruptcy, criminal matters, wills/trust/estates, as well as business and employment issues.
The event is organized in collaboration between the Armenian Bar Association (ABA), the Armenian Youth Federation (AYF) Montebello "Vahan Cardashian" Chapter, and the Armenian Law Students Association (ALSA) at Pepperdine University School of Law.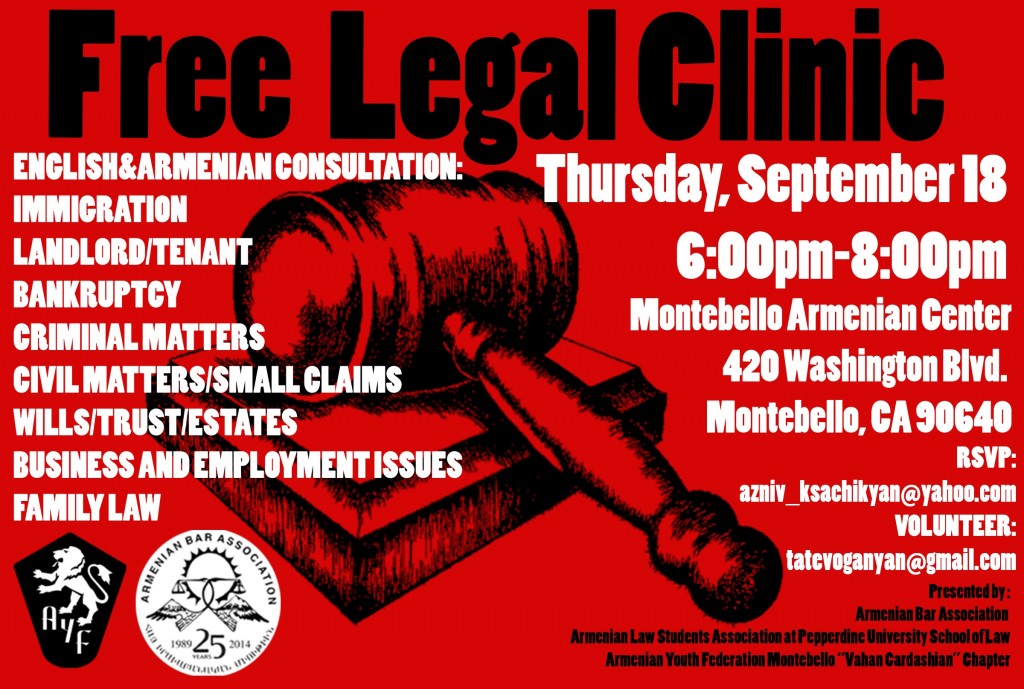 "Every year, thousands of first generations of Armenian families come from around the world to live in America," explained Armen K. Hovannisian, Chairman of the Armenian Bar Association. "For 25 years, we have tried to soften their landing by providing guidance about their legal rights and civic responsibilities under applicable laws. We are particularly pleased that the AYF Montebello and area law students have picked up the mantle to help our own. We are, indeed, our brothers' and sisters' keepers."
Volunteer attorneys from the Armenian Bar Association will provide free legal guidance to the members of the community. Law school students from the ALSA will assist community members with intake and communicating with the attorneys. Clinics are limited to advice and consultation only.
Attendees are encouraged to bring to the clinic documentation pertaining to their legal issues, such as agreements or contracts (signed or proposed), written rules or policies, court orders, court papers served or that were filed with the court, and specific paperwork related to the case. Attendees will be served on a first come, first served basis. Refreshments will be served, and ample parking is available.
The Armenian Bar Association was formed in 1989 to provide an arena for lawyers of Armenian heritage to come together socially and professionally and to address the legal concerns of the Armenian community.
Founded in 1933, the Armenian Youth Federation is the largest and most influential Armenian American youth organization in the world, working to advance the social, political, educational and cultural awareness of Armenian youth.
The Armenian Law Students' Association (ALSA) at Pepperdine University School of Law is dedicated to enriching Pepperdine's community understanding and appreciation for Armenian history and culture. The ALSA works closely with Armenian organizations at California law schools and universities to expand, strengthen and establish professional ties in the Armenian legal community.