It did not hit me until we stepped foot in the Proshyan agoump; I felt a mix of overwhelming joy, zealousness, and hope. Joy because this agoump was none like any I have ever seen before; it had its own gym, filled with punching bags and weightlifting equipment, and that is only downstairs. Upstairs has its own astonishing features, such as the stone-walled conference room and the newly built dorm-like rooms full of brand new bunks prepared for our use. Proshyan is only fifteen minutes from Yerevan, and after a week of touring, mostly in the city, I became used to calling Yerevan home. After settling in at the agoump, we returned with our group to Yerevan for dinner; I couldn't wait to get back to Proshyan. I'm sure it had something to do with us sleeping at the Proshyan agoump that made me call it home, but Proshyan was the first place in Armenia to which I felt an emotional attachment. Never before have I seen a city that widely expresses their Tashnag roots; nor have I seen a people belonging to a village that walk around with their Zeenanshan necklaces chained tightly around their necks, waiting for everyone to take notice.
We all had a great week in Yerevan and my group was fortunate enough to spend Vartivar there too. However, by the end of the week all of us were ready to start having a different type of fun. We were all impatiently waiting to finally start camp and do what we really came to do.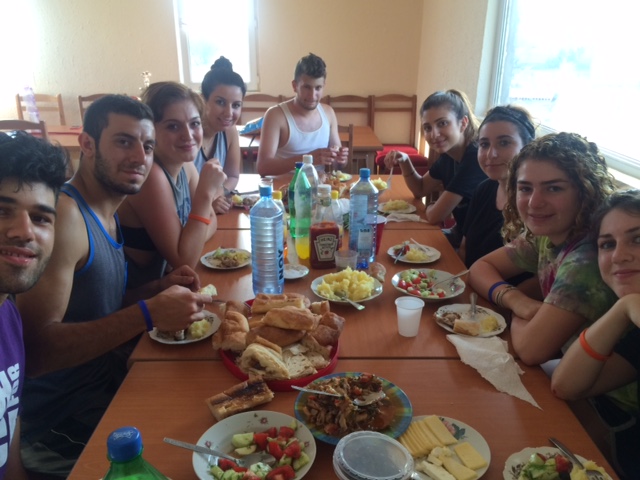 That day finally came on Monday, July 13. The first day of camp in Proshyan left me impressed and in complete shock. From the start the kids of Proshyan treated us with utmost respect and kindness, and welcomed us with the most overwhelming warmth.
What really got to me was when seven year old kids started singing all four verses of Mer Hayrenik, and Mshag Panvor with such strength and pride. I always thought that the Diasporan Armenian youth expressed more patriotism than the ones living in Armenia, but now I'm not so sure that is the case. I felt proud but also disappointed and wished that campers back in LA were as enthusiastic about Hai Tahd, ARF, and the Armenian Cause. I know I'm quick to judge but after one day in Proshyan, I am positive that these kids will grow up to be prominent men and women making real changes in Armenia.
In Proshyan not only did I meet new influential young ungers and ungerouhies, but I also connected with my new family- Harut, Mel, Koko, Kile, Talia, Taline, Ani, Paulina, and our group leader, Melo. Soon Paulina became my mom, and who knew Koko could make such amazing breakfasts. I know it's only been a day but I'm just so excited to learn from the kids here in Proshyan, later in Gyumri and Artsakh, and from my fellow Youth Corps group members – truly my new family. One thing I hope to do on this trip is to make the campers remember me like they remembered past Youth Corps participants.