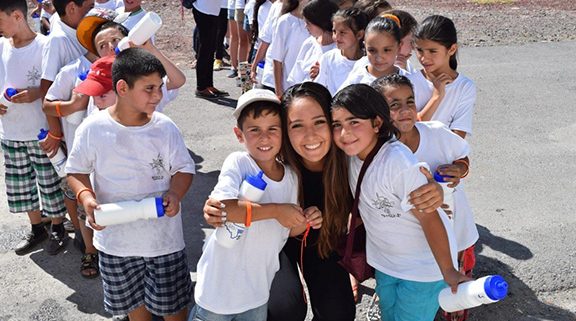 Apply to AYF Youth Corps 2018 today!
GLENDALE—The application for the 2018 Armenian Youth Federation Youth Corps summer program is now available. AYF Youth Corps is a six-week program in Armenia, of which five weeks are dedicated to hosting summer camps for youth ages 9-16, and one week is scheduled for exploring the treasures of Armenia.
"Living in Armenia allows you to witness the everyday lives of the locals. Not only do you witness it, but you become a part of it. We spent hours outside playing sports or hanging out with locals rather than glued to our phones." emphasized Knar Baghdassarian, a 2017 youth Corps participant. "Armenia's living environment is very different from what we're used to in America and living there definitely made me realized how much I take things for granted,"
Youth Corps participants get the opportunity to go on excursions to Armenian landmarks including Dzidzernakapert, Temple of Garni, Geghard Monastery, and more. The program participants run camps in various regions of Artsakh and get a chance to visit the Armenian community in Javakhk, Georgia during their time volunteering.
During the summer camps, Youth Corps participants lead children in competitions, sports, Armenian history lessons, arts and crafts, singing, and other aspects of Armenian culture. Participants are immersed in the city in which they host the camp for children that week.
The AYF Youth Corps provides a unique and hands-on opportunity for Armenian youth to connect with their Homeland, impacting both those who join as Youth Corps participants and the local communities that welcome AYF Youth Corps.
"Youth Corps is so unique in that you build bridges, memorable connections with the young kids who wait all year long to meet you as your campers at jampar; you reconnect to your roots, ignited by the day to day experience from waking up early by the cheerfully inpatient campers, ready for jampar, walking with you to and from the campsite, excited to show you their home," said Alique Cherchian, a Youth Corps 2016 participant. "However, above all else, the humbleness of the beautiful kids and the community locals makes you realize truly how much of an impact you are making on them, their village community, and our Hayastan as a whole, simply by participating in the program."
The deadline to submit an application is March 1, 2018. Apply today!
Founded in 1933 with organizational structures in over 17 regions around the world and a legacy of over eighty years of community involvement, the Armenian Youth Federation is the largest and most influential Armenian-American youth organization in the world, working to advance the social, political, educational, and cultural awareness of Armenian youth.