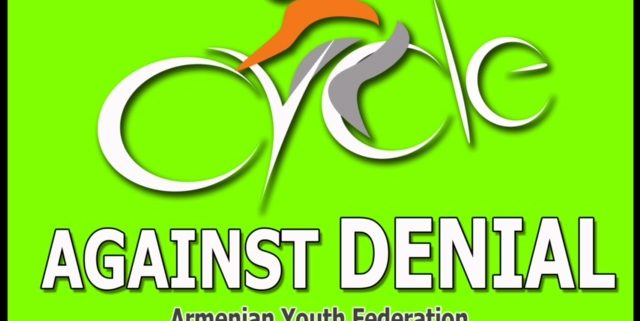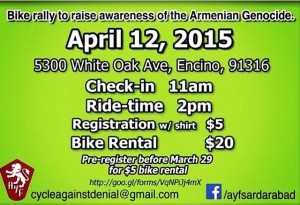 (ENCINO, Calif., March 30, 2015) –On April 12, the Armenian Youth Federation San Fernando Valley "Sardarabad" Chapter will host its seventh annual "Cycle Against Denial", a bike-a-thon to raise awareness about the Armenian Genocide.
"The cycle of denial will only end through education," said Dikran Khodanian, a member of the "Sardarabad" Chapter. "The Armenian community must come together on this 100th year of commemoration to raise awareness and protest in a different way."
This year's event circles over 10 miles beginning and ending at Holy Martyrs Armenian Apostolic Church (5300 White Oak Ave., Encino). The route takes place along Ventura Boulevard, one of the busiest streets in the San Fernando Valley.
Check-in on the day of the event begins at 11 a.m. and is required for each rider. For those under the age of 18, an adult must be present to check in. The event participation fee is $5, which includes a t-shirt. The bike rental fee is $20. Those under the age of 18 must wear helmets at all times. For questions or more information, please e-mail cycleagainstdenial@gmail.com.
Those who wish to register can fill in the information provided on this link: https://docs.google.com/forms/d/12o-RZ8RbrLJqzOXOLFsuf6qzp2PMNWiMdOwdW18OMN0/viewform?c=0&w=1.
Founded in 1933, the Armenian Youth Federation is the largest and most influential Armenian American youth organization in the world, working to advance the social, political, educational and cultural awareness of Armenian youth.