First day of Jampar in Gyumri was finally here and so was a camper named Ardo who had trouble written all over him. Within minutes it was obvious he was going to be the obnoxious troublemaker none of us had the patience to deal with. After just a few hours he had disrespected and bothered more than enough campers and counselors and was told to go home and not return for the rest of the week. Of course, he didn't listen to that either and within a couple minutes of sending him home he magically appeared in the classroom again. He promised to behave and for some reason we believed him and let him stay.
The next day before jampar even started he came up to me and said in Armenian, "Today I will behave, I have even learned all the songs you taught yesterday." Very surprisingly he was the loudest one during song practice, he even threw his fist up with pride during the necessary times. It had become obvious that he learned respect and was ready to cooperate for the rest of the week. What wasn't obvious was that he would end up being my favorite camper, the camper who would give me 40 kisses a day, and be the one to give me bracelets and presents every morning.
Thursday morning was a little different than the other mornings – he handed me a best friend bracelet on which he had written, 'I love you.' He gave it to me so I would remember him forever and asked for something in return so he could remember me. Thursday night I went to the store looking for something small and appropriate. After a while I saw a dice keychain and knew that it was the perfect gift.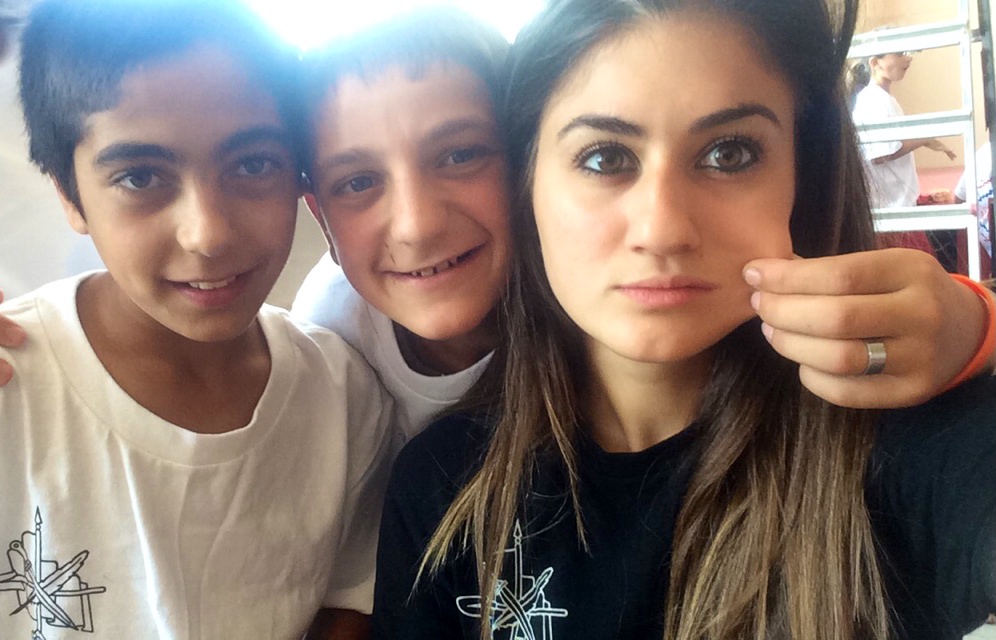 A dice is the perfect way to describe everything that has happened to me on this trip so far. Ardo is one of seven children, his hygienic condition speaks for itself that his family isn't the wealthiest, and I wouldn't be surprised to hear that all seven children have one room to in which to sleep. This is where the dice comes in – Ardo and I both have 100% Armenian blood, but due to "paghd" (luck) he is living in such conditions, and I am living in the States, worried about which 2016 model car I want, when he will soon worry about how he will care for his family and himself financially. The destiny of two Armenians is as random as a roll of a dice; it all depends on luck, whether you end up with a one or a six. I do not deserve the lifestyle in America more than he does, in fact he is the one who allows me to have a homeland to visit, it is someone like me who falls victim to white genocide.
This trip has made me realize that one of my dreams is only just a dream. A dream I would like to make a goal in the future would be to move to my homeland and raise a family. Unfortunately, during a discussion with my campers from Artsakh, I opened up under pressure and realized how different their lives are. These children who come in the morning with the biggest smiles, wettest kisses, and biggest hugs have brothers, fathers, and uncles who have died to keep our land, who are on the front lines to defend our land, and who soon will wholeheartedly join the army to keep our land. Standing in front of these teenage boys thinking I am doing a huge deed for my country while they are the soil and mountains keeping a country alive on a map made me realize the actual sacrifice I have to make. Hearing stories of how all three brothers and a father were killed leaving a mother alone made me ask myself a question – am I, or anyone back in the states willing to sacrifice all the male figures in their family just so we keep our land?
I began to explain to Ardo why I got him a dice but tears didn't allow me to finish. I watched the troublemaker of camp cry and it wasn't because of a horrible "badeej", it was because of an everlasting connection made between the diaspora and the homeland.
– Lori Shirajian