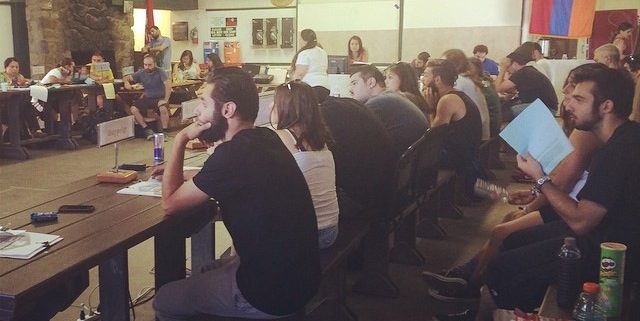 The Armenian Youth Federation – Western United States held its 41st Annual Convention this weekend at AYF Camp. Over 30 delegates from 11 AYF chapters were present at the Annual Convention, the highest legislative body of the organization.
Various topics about the organization were discussed and analyzed to set an outline for the 2014-2015 fiscal year. Topics included the activities of the outgoing Central Executive; the performance of local chapters in relation to their goals and expectations; and the success of AYF initiatives and programs, both locally and in the homeland. The Convention also discussed community activism, plans for the 100th anniversary of the Armenian Genocide, and establishing new means of strengthening ties with the Homeland, as well as the latest developments in Nagorno-Karabakh and the recent escalation of violence along the Armenia-Azerbaijan border spurred by aggressive attacks from Azeri forces.
The Convention concluded with the election of the organization's new Central Executive, whose function is to govern the administrative and organizational aspects of the AYF. The Convention opted for a seven-person body consisting of Arpa Hatzbanian, Gevork Iskajyan, Joseph Kaskanian, Hraché Novruzyan, Raffi Senekeremian, Sevag Tchekidjian and Verginie Touloumian.
Representatives from the Armenian Revolutionary Federation Central Committee, AYF Camp Management Board, the AYF Eastern Region, and other invited guests were also present at the Convention.
Founded in 1933, the Armenian Youth Federation is the largest and most influential Armenian American youth organization in the world, working to advance the social, political, educational and cultural awareness of Armenian youth.