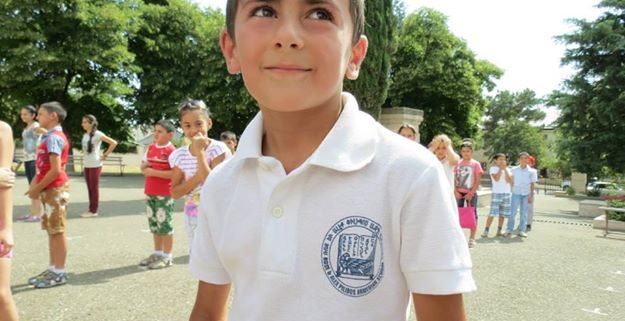 I attended Rose and Alex Pilibos my entire life, so you can only imagine my excitement on our first day of Jampar in Askeran, Artsakh, when a young boy came to camp in a Pilibos polo shirt, the same one I had worn for 15 years. My Armenian school uniform made its way to Artsakh and allowed me to realize that in one way or another, all roads lead to the Hayrenik. Growing up in California, in a very tight-knit Armenian community, I learned how important it was to connect to the homeland. In 2011, when I traveled to Hayastan for the first time, I was able to see the land I had learned so much about, but that void of connecting to the homeland on a more personal level was not filled because I was merely a tourist. I didn't interact with any locals, I didn't hear their personal stories, I didn't experience life in Armenia, and while I fell in love with my homeland, I was not able to build my bridge to it. For that reason, I was very interested in participating in the Youth Corps program, knowing that its goal is to bridge the gap between the Diaspora and the homeland. To me, bridging meant having a personal relationship with the locals of the homeland. It also meant getting a feel of living in the homeland. AYF Youth Corps allowed me to do both. I interacted on a personal level with the kids and counselors in Gyumri, Baghanis, and Askeran. For over six weeks, I heard their stories, their fears, their joys, their dreams, and their aspirations. Ultimately, I built relationships in the different regions of Armenia that I know will not fade away.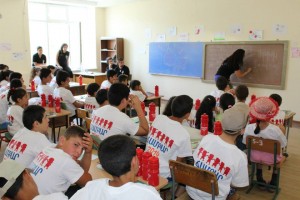 Throughout the different camps, kids constantly asked me if I was Armenian. It really upset me at first because here I was, in Armenia with the intent of building a relationship with the local Armenians, and they don't even know that there are Armenians who live outside of Armenia. However, this also created a drive within me; a drive to teach about how there are Diasporan Armenians who work tentatively to help the homeland and to build their bridges to it. Therefore, during educationals about the Diaspora in the different camps, I spoke about the history of the establishment of Diasporan Armenians following the Armenian Genocide of 1915, as well as the historical influxes of Diasporan Armenians throughout the last century. I also discussed the role that has been played by Diasporan Armenians to help develop and sustain our country. Through this educational, the campers began to understand and appreciate the importance of a strong relationship between Armenians living in the homeland and those abroad. Giving the Diaspora educational, my goal was to teach the kids to see me as an equal Armenian; to see how Armenian Diasporans care and work for the homeland even though we are outside the homeland. I wanted them to understand that geographic location does not define one's Armenian spirit – one's Hayrenasirootyoon.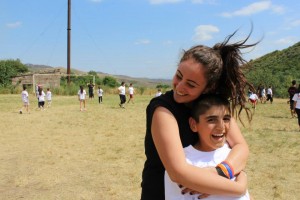 Seeing the boy in the Pilibos polo, in a way, served as a physical symbol of my bridge built to the homeland. The polo was piece of my home and a symbol of my upbringing as a Diasporan Armenian. Seeing an Artsakhtsi boy wearing it allowed me to physically see the Diaspora's connection to Armenia; how the Diaspora and the homeland are intact, bridged. I felt by seeing just how the Diaspora's help and work to develop the homeland really does play a role in Armenia. It was the first day of camp, I did not know this boy yet, but I instantly felt a connection to him. Somehow, someway, we both wore the same polo. For my bridge built, I am eternally grateful to Youth Corps and everyone and everything, including my family and my Armenian school, which played a role in building the foundation of my bridge to my homeland. And lastly, I ask you to please keep donating to Hayastan and Artsakh, even if it is just old school uniforms, because they honestly get there and they really help the people who may not be as fortunate as us.
— Carla Kekejian